In this article I will explain what hypnotherapy is and what areas it can help you with. I see clients in Golders Green, North West London. I will explain more about Golders Green and the area around my North West London Hypnotherapy practice. If you are interested in sessions, contact me today.
Hypnotherapy is a type of therapy which addresses both daily challenges and more deeply embedded issues. As a type of therapy, hypnotherapy at my North West London practice is a relaxing way to make changes and work on personal growth. Hypnotherapy involves some talking but also guided visualisations in a state of deep calm, which is a type of focused concentration.
About hypnotherapy in North West London
During a hypnotherapy session, your hypnotherapist will guide you to achieve a heightened feeling of awareness that is sometimes referred to as a hypnotherapy 'trance'. During hypnotherapy or hypnosis, your attention will become more narrowly focused. This will mean that you will no longer be as aware of things in your peripheral vision and therefore sense data (sights, sounds and so on) that you're not concentrating on will be more out of focus. This process of relaxation will help you listen more carefully and consider what your hypnotherapist is 'suggesting' to you. With this more concentrated focus, your subconscious mind will be able to hear these suggestions, which you can choose to use for your benefit.
How does hypnotherapy in North West London work?
Just like many forms of counselling, for example cognitive behavioural therapy (CBT) or psychotherapy, hypnotherapy helps you with both practical aspects of daily life and getting to grips with the underlying causes of serious challenges. People seek out a hypnotherapist for help with challenges such as addictive patterns, anxiety, stress, or depression.
Hypnotherapy is so effective because hypnotherapy looks at your subconscious. You will find that embedded patterns of behaviour or thought that you had felt had been there for years will be brought to the surface. Once you can see patterns more clearly, you are better placed to then more easily change them. In the hypnotherapy trance state, you will be able to recall memories, thoughts, and feelings that had been locked away in the subconscious mind. You will overcome barriers and blocks to change.
What are different forms of hypnotherapy used at your North West London practice?
There are different types of hypnotherapy and I will mention two:
Suggestion hypnotherapy
During suggestion hypnotherapy you will be guided to a very relaxed state and then given 'suggestions'. Suggestions are really just, as the word expresses, suggestions of different ways to perceive, think or feel about life challenges, outlooks, thoughts, or situations.
Some simple suggestions, for example, for a smoker, would be to simply no longer enjoy smoking. I might during a session say things like, "You have no desire to smoke anymore". To the conscious mind and no doubt to you reading this, it may seem strange that simply saying to somebody 'you have no desire for a cigarette' would help them reduce their desire to smoke. However, in the relaxing hypnotherapy trance, the subconscious mind is more receptive to these suggestions and takes onboard the suggestion as if it is a reality. Suggestion work can often involve telling a story or describing situations but peppering the narrative with ideas and words that the subconscious will take on in a positive sense.
Of course any suggestions that goes against your morals, beliefs, or you don't agree with, you would simply ignore. As such, if a hypnotherapist was to say something that you strongly disagreed with, you may even open your eyes and end the session.
Analysis hypnotherapy
During analysis hypnotherapy, sessions can work on issues for which people might visit a psychoanalyst or psychotherapist. Analysis hypnotherapy will help you by looking at the roots of whatever symptom, disorder, condition or problem you have come to overcome. This might be related to memories from your past, childhood experiences or even traumatic experiences. By bringing these memories and thoughts to the surface, you will be more able to look at them, deal with them, overcome them, learn any lessons you need from them and safely file them into your past memories again. This process will leave you feeling calmer, more confident and empowered because of the experience.
What are the benefits of hypnotherapy in North West London?
I often say to potential clients that the worst case scenario is that they will leave the session feeling relaxed and calm. This is because the hypnotherapy trance state is relaxing in and of itself. However hypnotherapy is more than just a simple relaxation technique. It's a method to really overcome different challenges in everyday life. Here are some examples of challenges I regularly help clients with at my North West London hypnotherapy practice:
anxiety and depression
insomnia and sleeping
phobias and fears
IBS – irritable bowel syndrome
addictions (for example smoking overeating, drugs, sex, alcohol)
post traumatic stress disorder- PTSD
grief, and loss
stress
life coaching challenges such as career direction and time management
pain control
It's quite common for people today to use a hypnotherapist to quit smoking or simply reduce stress levels. Whatever you are looking to get help with, please get in touch to discuss your needs.
Are there any drawbacks to hypnotherapy?
As previously mentioned, hypnotherapy is simply very relaxing. However, for some people with certain medical conditions, it may not be advised to have hypnotherapy. Please check with your doctor if you have a condition in which you may have fits, hallucinations or suffer from a disorder where there is some psychosis, or you may experience delusional thinking. It may be wise to check with your doctor first if you are unsure.
I believe, in general, that most people are hypnotizable. It's quite rare for somebody to come along and I am unable to guide them into a gentle hypnotic trance. Some people worry that hypnosis and hypnotherapy is a type of mind control. However, this is really a false impression gained from watching too many TV shows. On these shows you see an entertainer entertaining the audience by manipulating people on stage. A professional therapy session is a very different experience. The hypnosis work I do is very safe and is only about benefiting you. If you have any questions or concerns whatsoever, please ask.
Where are hypnotherapy sessions in North West London?
I see clients in central London, in King's Cross and also in Golders Green. Let me tell you about Golders Green and the North West London area.
North West London contains many historic neighbourhoods and districts. There are those closer to central London, in particular the beautiful areas of Belsize Park, West Hampstead, St. John's wood and Primrose Hill. Northwest London is famous for Hampstead Heath and Highgate woods, some of the biggest and most beautiful parks in London. Northwest London, as well as boosting wonderful parkland has cultural spots, London zoo, Lord's cricket ground, as well as famous theatres and cinemas. For example, the Hampstead theatre and the Regents Park open air theatre. Swiss cottage, Highgate and Finchley are other well-known neighbourhoods. Belsize Park and Chalk Farm are known for their beautiful houses.
Hampstead is also a famous area and used to be a spa town. That's why there are so many pools and ponds around Hampstead Heath. Hampstead is also famous for therapists and is famously where Sigmund Freud lived for one year close to the end of his life. He moved to Hampstead after fleeing Austria, when it was invaded by the Nazis. Primrose Hill is a lovely area close to Regents Park and the zoo. Primrose hill has quaint shops, restaurants and lovely parks.
Camden town is also found in Northwest London. This now desirable neighbourhood has become more gentrified with formerly run down houses renovated. Famous for Camden market and a music scene, you can also enjoy a canal walk and then visit Camden lock, with its many unique shops. Camden also has a strong nightlife with nightclubs, restaurants and bars.
Golders Green and hypnotherapy in Northwest London
I see clients in Golders Green, which is also quite close to West Hampstead, Hendon, Colindale and Finchley. Golders Green is in the London borough of Barnet. Many years ago it used to just be farmland. However, with urbanization, it became much more of a commercial centre. Golders Green is on the Northern line of the London Underground Tube system. Golders Green was founded as a medieval Hamlet in the parish of Hendon and then it became rapidly bigger. During the mid to late twentieth century the area was home to BBC television productions, with the Golders Green Hippodrome becoming the centre of the BBC concert orchestra.
Golders Green has many interesting populations. It has often been known for a large Jewish population and it's a great place to buy Jewish or kosher food, especially bagels and kosher bread.
The name 'Golders' comes from a family called Godyere, who lived in the area. The area is also next to Hampstead garden suburb, which is a beautiful neighbourhood. It's always worth a visit to walk around, just close to Hampstead heath.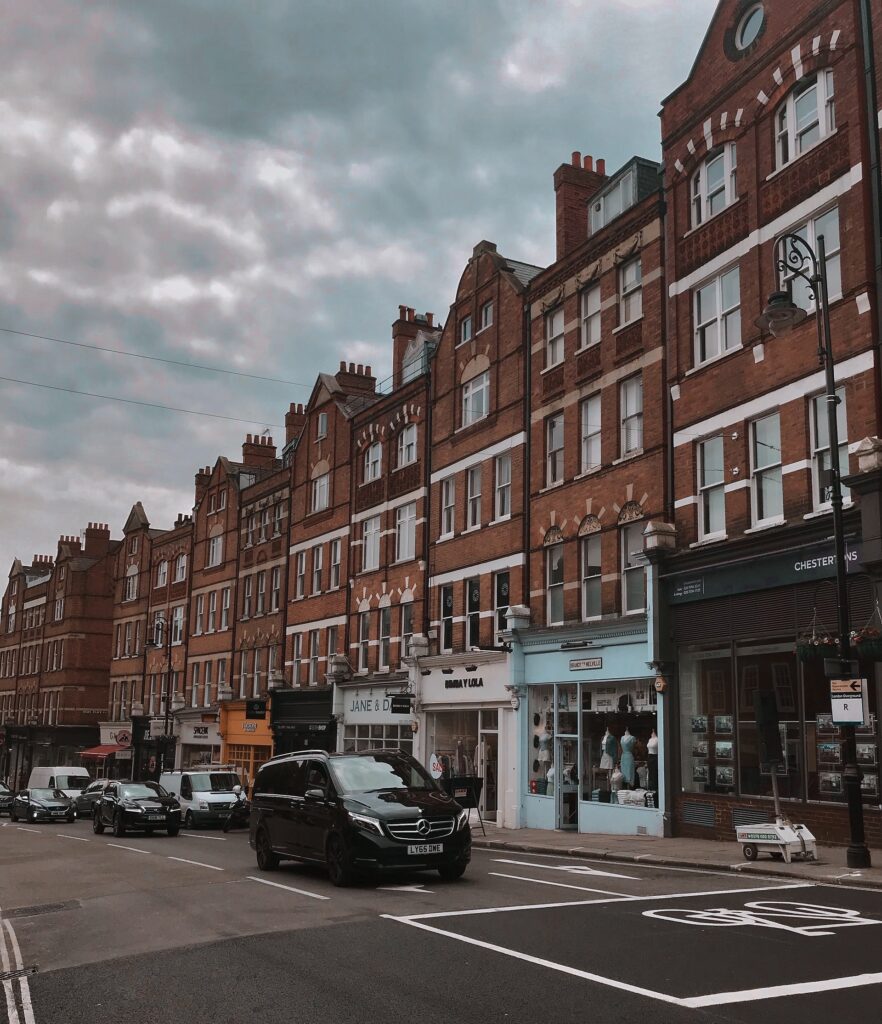 There are many historic schools and churches in the Golders Green area. The Golders Green crematorium opened in 1902 is also a building of significance, quite close to the Golders Green underground (Tube) station.
In terms of demography, it can feel like quite a Jewish area. The majority of people in Golders Green are not Jewish, of course. The Jewish community has been quite prominent, taking root in the earliest 20th century, after many Jews fled from Germany or Eastern Europe during the holocaust or run-up to the Second World War. There are many kosher shops and restaurants.
Significantly now there is a strong Japanese and East Asian community. Just by the practice where I work, there are some wonderful Japanese restaurants in particular Eat Tokyo and Hallo Kitchen. So the local economy is made up of restaurants, including Indian Thai, Japanese, Korean, Italian, and Israeli. There also are many coffee bars along the high street.
Golders Green has very good transport links. As well as the Northern Line on the London underground, which is zone three, there are good bus connections too. Golders Green is also a main hub for the National Express coach service. You can get a National Express bus to all different parts of the country.
A lovely park in Golders Green is Golders Hill Park. This park, close to Hampstead and the Finchley Road, includes a small zoo, horticultural garden, butterfly house, duck ponds, a water garden and cafe. It is well worth a visit and a short work from Golders Green Tube station.
Famous names and Golders Green
George Harrison of the Beatles recorded and released a track named, "Going down to Golders Green." George Harrison would visit friends who lived on Park Avenue, just off North End Road, where my practice is located.
Spike Milligan, in a 1944 poem, also mentions Golders Green. That it would be a place in which he wishes to be buried, no doubt referring to the crematorium or cemetery.
Golders Green is also noted for a number of famous residents. The novelist Evelyn Waugh lived there and the comedian Michael McIntyre grew up in Golders Green also.  Alex Claire, the singer songwriter, lived close by and Helena Bonham Carter, the famous actress was also born in Golders Green.
I hope you enjoyed this short review of the area. I see clients in Golders Green Northwest London, opposite Golders Green Tube station. If you'd like to find out more about my hypnotherapy practice in North West London, click here to make contact. I look forward to hearing from you soon.